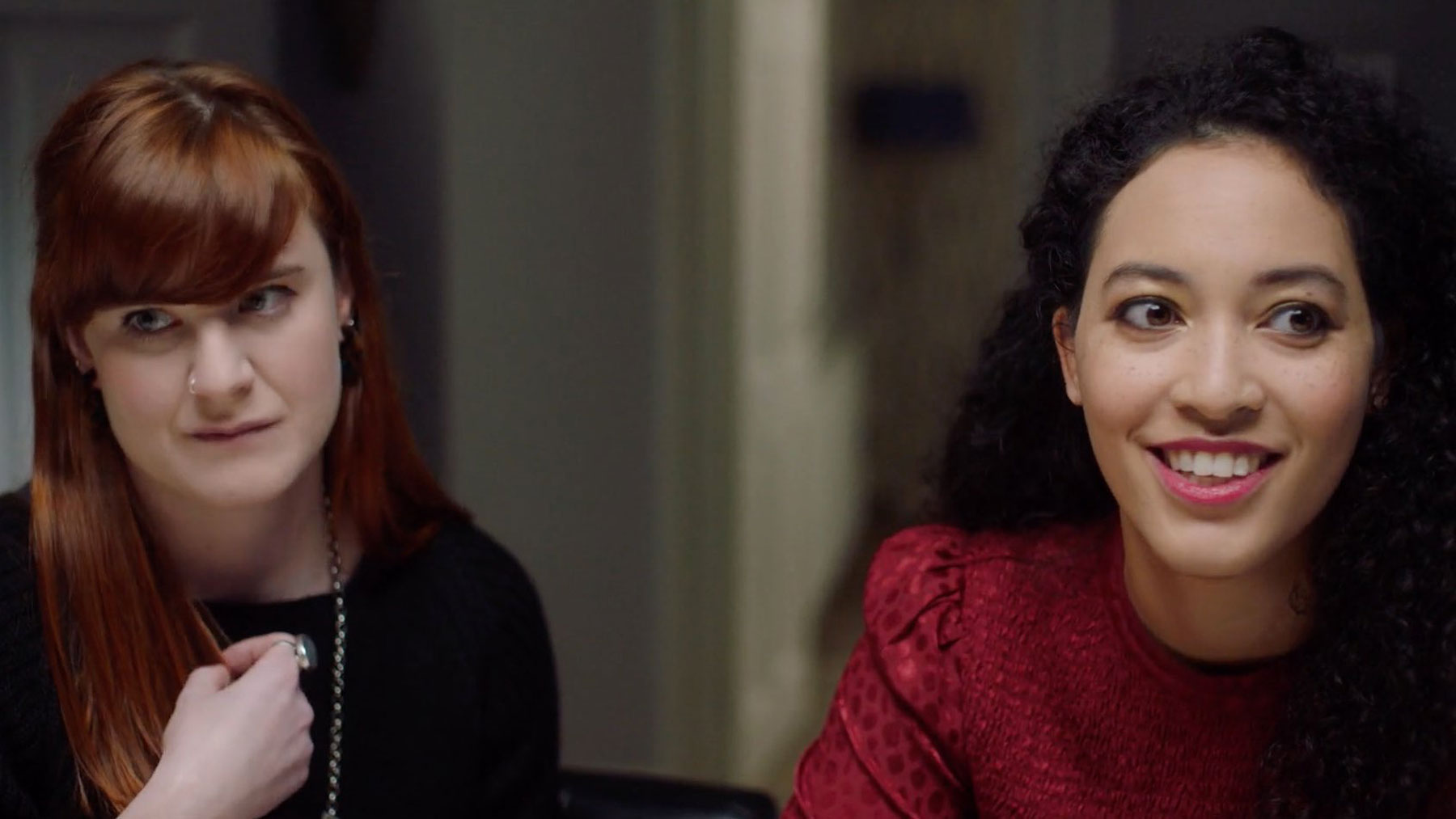 Summary:
'Miss and Missus' explores the ever-changing dynamics of female friendships as we grow through life's stages. Best friends Kathryn and Aine try to reconnect on a girl's night out.
Runtime: 10 minutes
Writer/Director: Katie Bridget Murphy | Producer: Muireann McGinty | Cinematographer: Jennifer Atcheson | Executive Producer: Lisa Keogh
Cast: Lucy McConnell as Kathryn and Vanessa Ifediora as Aine.
Screened at: Still Voices Film Festival 2020 & Curated by BFI NETwork for their #NETWORKandchill series 2020
Katie Bridget Murphy (writer/director)
Katie is a writer/director from Belfast. Initially having trained & worked as a jobbing actor she has made the move behind the camera over the past six years. She wrote & directed her first self funded short film 'Transit' in 2016 which screened at the BAFTA qualifying Belfast Film Festival and many other festivals across Europe. She developed the script for Miss & Missus through Northern Ireland Screen's 'New shorts focus scheme' 2018/19. She was delighted to receive funding to produce & direct her script on completion of the scheme & teamed up with Farset Films to direct 'Miss & Missus'. She most recently has completed post production on her latest NI Screen funded short documentary 'Fourth'. She works freelance as a director & content producer in Belfast. 
Lisa Keogh (Exec producer)
Lisa has been making short films since 2010, when she wrote and produced Mute with director, Conan McIvor. Her first short film as writer/director, Taking the Boat, was one of five shorts produced through NI Screen's Short Steps Programme 2011/12. In 2013 she wrote and directed Thumb Wars for Mighty Sprite, funded by NI Screen.Her feature script, The Dark Path, a supernatural drama, was first runner-up in NI Screen's New Talent Focus 2013/14 and she was one of NI Screen's Emerging Auteurs 2014/15. In 2014 she was a trainee Director on the CBBC show Dani's Castle as part of the NI Screen's Drama Directing scheme. She was part of the BBC Writersroom, Drama Room 2017. In 2019, she directed Clean by Karis Halsall as part of BBC3's The Break, Series 4 and was the 2nd Unit Director on The Deceived, a 4-part thriller written by Lisa McGee & Tobias Beer. 
Lisa has a PhD in Scriptwriting from Queen's University, where she taught scriptwriting at both postgraduate and undergraduate levels. 
Muireann McGinty (Producer)
Muireann has been working in the Northern Ireland television industry since 2010 and has extensive experience of development and production in factual, entertainment and current affairs television. Muireann was part of the original team behind Channel 4's long-running series of moral and ethical short films, 4thought.tv, has been a live producer on BBC1's Sunday Morning Live and was producer on Ireland with Ardal O'Hanlon - three one hour feature documentaries for More 4.
In 2018, Muireann was part of the BBC Northern Ireland Spotlight team responsible for Buried Secrets - an investigative documentary combining real-life testimony and drama reconstruction unveiling an historical clerical abuse scandal in the Catholic Church. As a writer, Muireann participated in NI Screen's Short Steps programme in 2014 with Meryleum, and was finalist in BBC Writersroom Craic Off competition in 2014. 
Support Us
CIACLA is a registered 501(c)(3) non-profit arts organisation in California, that promotes Contemporary Irish Culture and supports local diverse communities. Please consider making a tax deductible donation to support our artists and program.