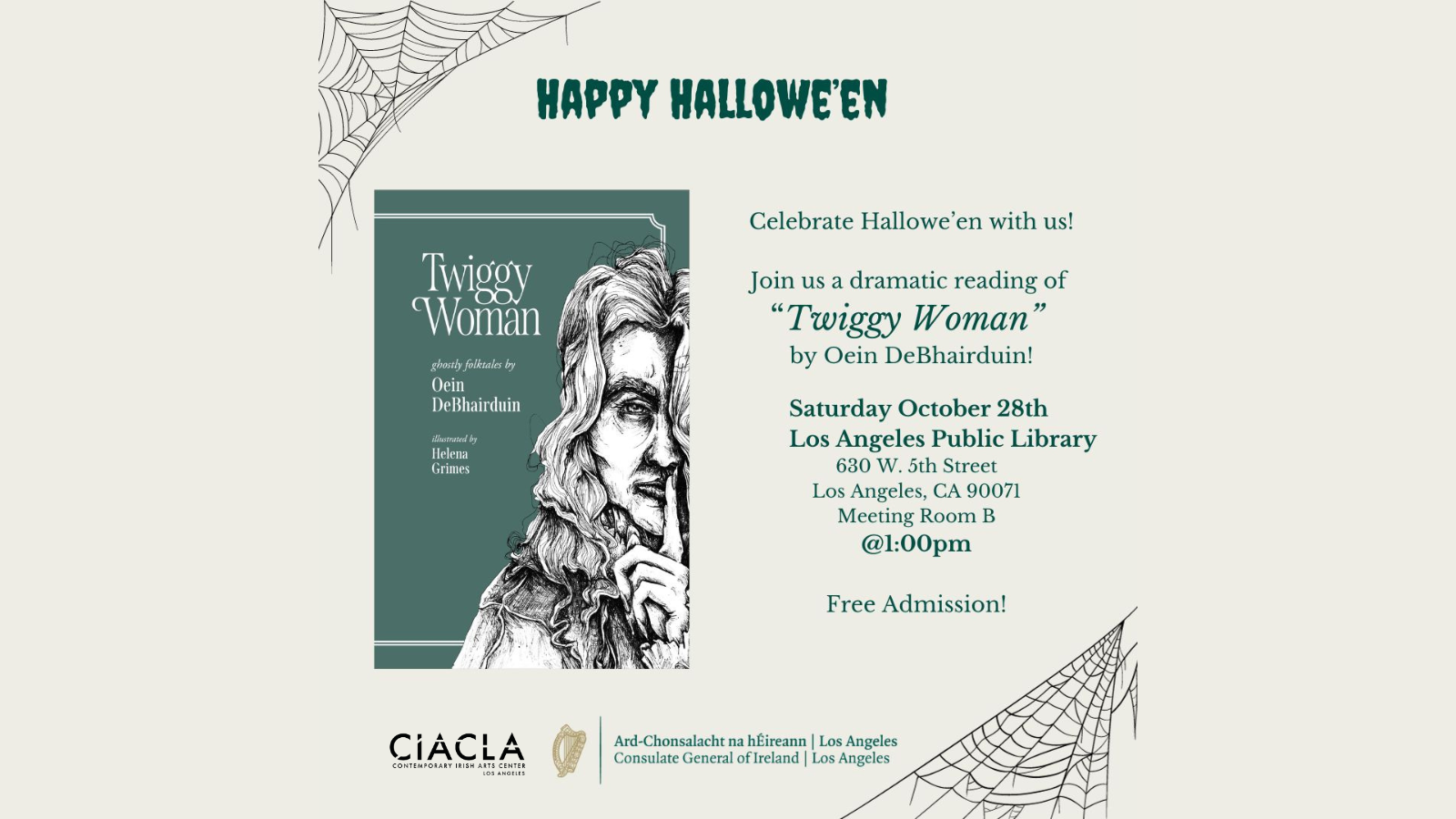 Irish Ghost Stories: Live Performance

 Celebrate Halloween with CIACLA & Consulate General of Ireland!
You'll be on the edge of your seat as you take in this dramatic reading of Twiggy Woman by award-winning author Oein DeBhairduin. Twiggy Woman is a collection of ghost stories rooted in the oral tradition of the Irish Traveler community. A group of Ireland's finest will read these haunting tales live. We hope to see (and scare) you there!
Featuring Sonya Macari Devlin, Charlotte Peters and Rian Sheehy Kelly.
1-2pm on Saturday 28th October 2023
Meeting Room B - Los Angeles Central Library, 630 W. 5th Street Los Angeles, CA 90071
About the Author: Oein DeBhairduin is an Irish Traveller activist, educator, administrator, and writer. He is the co-founder of LGBT Tara (Traveller and Roma Alliance). Oein DeBhairduin has a passion for preserving the beauty of Traveller tales, sayings, retellings and historic exchanges. Oein is the author of the award-winning Why the moon travels. His other works are Weave, The Slug and the Snail and Twiggy Woman. He is the Traveller Culture Collections Development Officer with the National Museum of Ireland and seeks to pair community activism with cultural celebration, recalling old tales with fresh modern connections and, most of all, he wishes to rekindle the hearth fires of a shared kinship. - Skein Press | Follow: https://twitter.com/Oeiny
For ADA accommodations, call (213) 228-7430 at least 72 hours prior to the event. Para ajustes razonables según la ley de ADA, llama al (213) 228-7430 al menos 72 horas antes del evento.