Culture Chats is an accessible discussion intertwining cultural and social issues, while delving into the minds of some of the leading contemporary voices in Irish culture. 
Episode 2 was filmed on location at IMMA Dublin, where Matthew Nevin chats with an exciting lineup; featuring multidisciplinary artists Niamh Hannaford and Day Magee, award winning director Eamonn Murphy, composer Ruth O'Mahony-Brady and internationally renowned singer Chloë Agnew.
The chat showcases and celebrates these artists' work, while discussing the highs and lows that come with a career in the arts. The conversation moves across artistic disciplines and provides an insight into how these artists are paving the way to create and develop a modern arts scene in Ireland.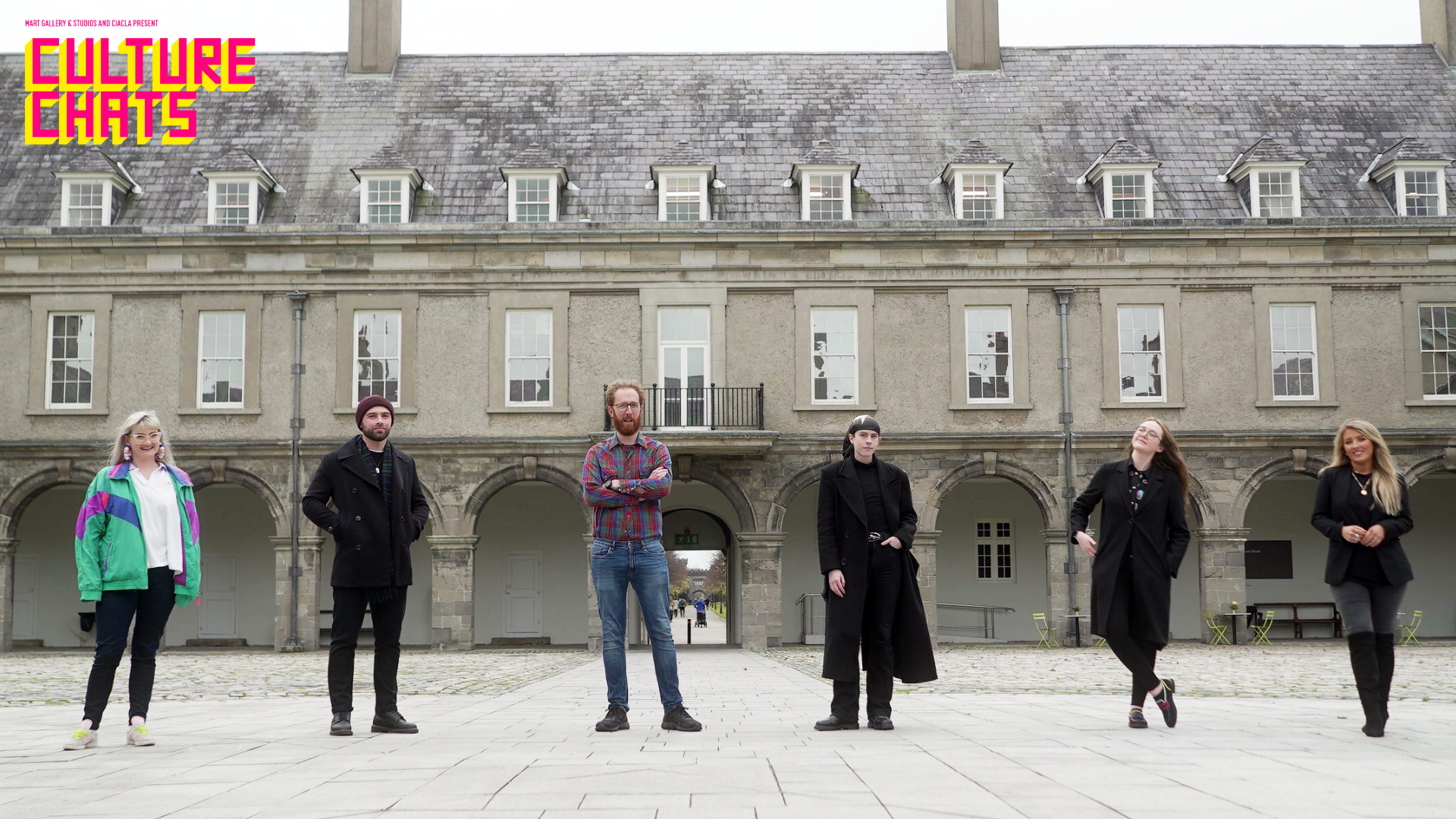 About the Artists
Niamh Hannaford is an energetic visual artist and arts facilitator working in performance, self-portraiture painting, poetry and object making. Her work is colourful, playful, interactive and accessible.  Check out Niamh's Website | Instagram | Facebook
Eamonn Murphy an award winning writer and director.  Check out Eamonn's Website | Instagram | Facebook
Ruth O'Mahony-Brady a pianist, vocalist, producer and composer. Check out Ruth's SoundCloud | Instagram | Twitter
Day Magee is a multimedia artist working across music, live performance, the written word and the visual arts. Check out Day's Website | Instagram 
Chloë Agnew is a singer, songwriter and actress who gained fame as one of the original members of the internationally acclaimed music group Celtic Woman. Check out Chloe's Website| Instagram | Facebook | Twitter
Matthew Nevin, a curator, artist, filmmaker and Co Director of CIACLA, The Contemporary Irish Arts Center Los Angeles and MART Gallery & Studios Dublin. Check out Matthew's Website | Instagram | Facebook | Twitter | Linkedin
Production:
Produced & Hosted by Matthew Nevin 
Co Produced by Ciara Scanlan & Jenny Minniti Shippey | With thanks to Edward Sheehy & Ewa Eypno
Directed by Eoin Heaney | Camera: Luca Truffarelli, Ror Conaty, Pato Cassinoni
Sound: Kieran Sheridan |Editor: Gavin Coleman
Produced by:
CIACLA, The Contemporary Irish Arts Center Los Angeles,
About CIACLA:
CIACLA is a non profit 501(c)(3) arts organisation that promotes Contemporary Irish Culture and supports local diverse communities in Los Angeles through a multidisciplinary programme in collaboration with local and international cultural partnerships.  CIACLA is focused on developing a creative platform to support and challenge artists as a means of promoting creative innovation and collaborative initiatives in Los Angeles and across the USA. The show is running as part of CIACLA's program which has been supported by Culture Ireland, Government of Ireland Emigrant Support Programme, Screen Ireland and MART Gallery & Studios.