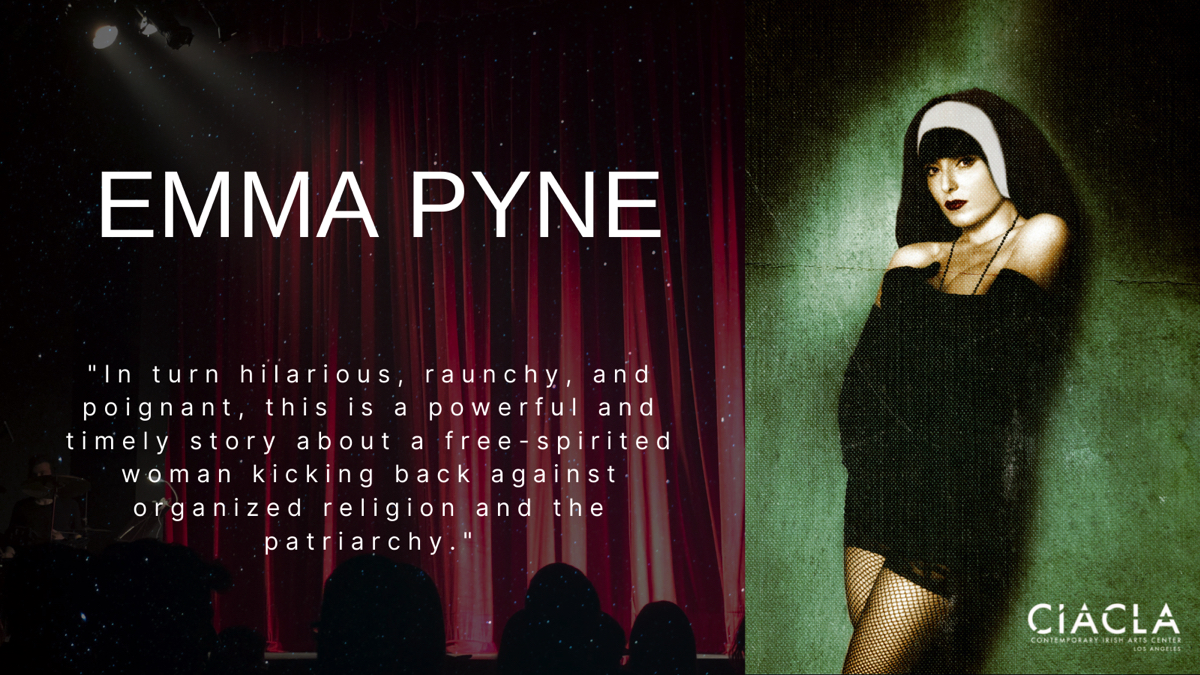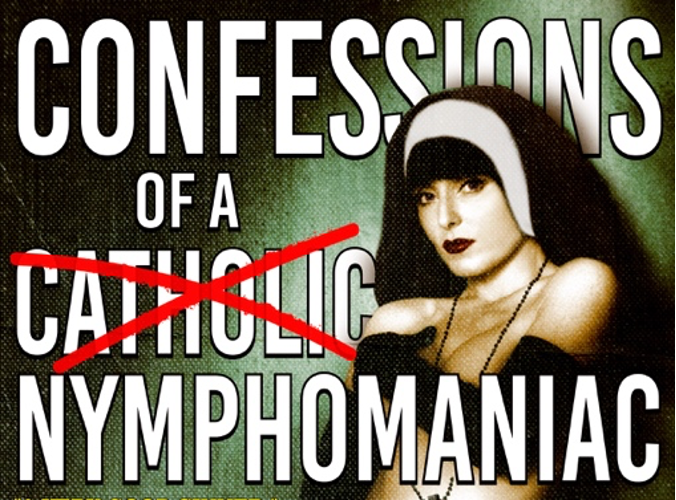 Confessions of a Catholic Nymphomaniac - A Staged Reading
Written & Performed by Emma Pyne.
Sunday Dec 4th at 3pm
Santa Monica Playhouse, 1211 4th Street Santa Monica. 
On Dec 4th 2022 we held a Sold Out staged reading of Emma Pyne's Confessions of a Catholic Nymphomaniac for VIP guests and industry professionals. The reading was preceded by a CIACLA Creative Network Meetup and followed by a short Q&A and drinks reception. 
When she is slut-shamed by a national tabloid at the age of twenty-four, and branded a Nymphomaniac by the people of her small Irish town, this (former) Catholic girl's life is turned upside down and she struggles to overcome her generational shame around sex and find her way back to her bawdy true self.
In turn hilarious, raunchy, and poignant, this is a powerful and timely story about a free-spirited woman kicking back against organized religion and the patriarchy. It is a love letter to women and girls everywhere, reassuring them they are not alone, disgusting, or shameful for having normal sexual desires.
Born in Belfast during the 'Troubles' and the reason her family fled to the south, Emma Pyne an actor and writer, a graduate of City University, London, The Limerick School of Art & Design, Ireland and The Lee Strasberg Theatre & Film Institute, Los Angeles. Growing up in Ireland at a time when talking openly about sex was very taboo, Confessions Of A Catholic Nymphomaniac has been a long time coming. It is her debut solo play.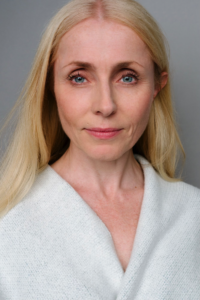 EMMA PYNE - Biography
A native of County Clare, Ireland, Emma Pyne is an actor, writer, and filmmaker. At school she performed in countless musical productions and comedy skits. At Art College, she was part of a glam-rock covers band called The Alvin Purple Experience.
After college she moved to London where she was queen of the London Fetish club scene in the mid 90s, appearing on the cover of Skin Two magazine in 1996, one in particular that Stanley Kubrick requested for his research of Eyes Wide Shut.
As a model and performance artist, she appeared on stages from London to Ibiza, and made her onscreen debut in Brit cult film Preaching To The Perverted, later appearing in BBC fantasy drama Neverwhere.
Emma trained as an actor at The Actor's Temple in London and in Los Angeles at The Lee Strasberg Film and Theatre Institute. She has a BA in fashion design from the Limerick School of Art & Design in Ireland, and a Post Graduate Diploma in Broadcast Journalism from City University in London. As a journalist, she worked for London's SKY News, BBC, ITV, wrote for the UK's best-selling weekly, LOOK magazine, and had her own column for London's GROVE magazine.
Emma began writing comedy in 2006 and performed with a sketch comedy group at the Edinburgh Fringe in 2007 and 2008, where one night her costume change got misplaced backstage and she had to go back on in her underwear. Theatre credits include Grease, Educating Rita and Bury The Dead, and a sold out London Production of The Vagina Monologues. She performed the C*nt Monologue.
Two short films, that she wrote, produced, and starred in took multiple awards at The FASH Film Festival LA, in 2017, Dublin Independent Film Festival 2019 and Pictures Up Film Festival LA, in 2021. She stars in the film Angels On Tap, with Ed Asner, Jamie Farr and Marion Ross on Amazon Prime. She has performed stand-up in New York, London, Ireland, Edinburgh, San Francisco, Scottsdale, Vegas and in LA at The Comedy Store, The Hollywood Improv, Flappers and in OC at the Irvine Improv.
The first version of Confessions of a Catholic Nymphomaniac was all set to open on March 18th 2020. (Yep, we know how that went!) She is very proud of her Irish heritage and is committed to exploring our shared humanity through storytelling.