ONLINE EXHIBITION 
Erin Schalk & Chris O'Mahony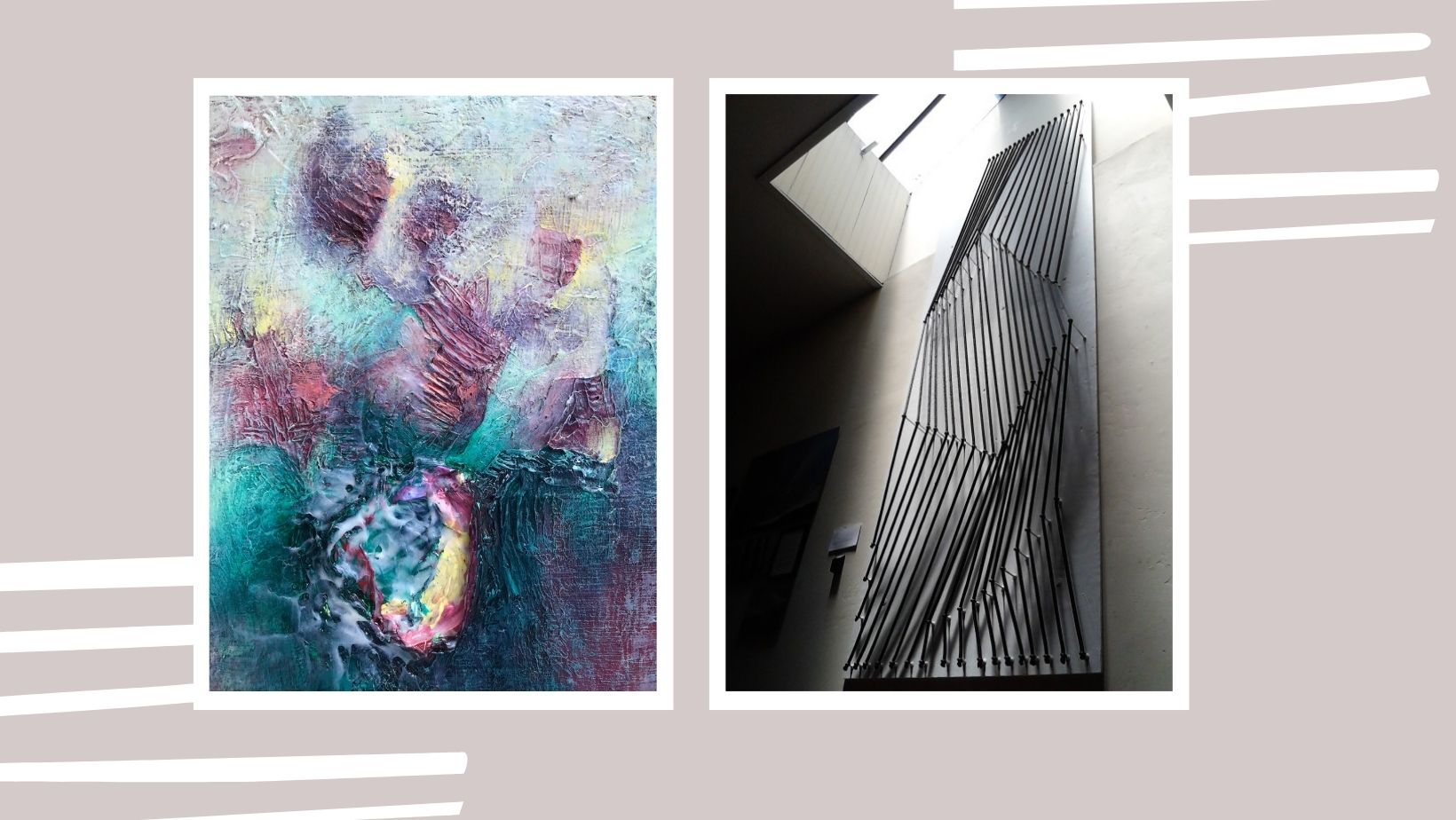 CIACLA is delighted to announce the launch of our Artist Spotlight; an online exhibition featuring the work of two Los Angeles based artists Erin Schalk and Chris O'Mahony.
This online exhibition has been curated by Ciara Scanlan and from May 17th over a two week period, we will showcase a daily selection of images from each of the artist's work across our social media.
Please scroll down for the accompanying review of the artist's work by Terence Erraught.
Erin Schalk is a visual artist, writer, and educator who lives in the greater Los Angeles area. She graduated with her MFA in Studio from the School of the Art Institute of Chicago in 2017, and she has exhibited her art throughout the United States, as well as in the United Kingdom and Japan. Both her poetry and visual art have been published in a variety of journals; highlights include The MacGuffin, The Woven Tale Press, Parentheses International Literary Journal, Willawaw Journal, and others.  Today, Schalk also is a guest poetry and visual art reviewer and interviewer for Aji Magazine. In 2011, Schalk's career as an educator began overseas in Okinawa, Japan where she taught visual art and English as a Foreign Language (EFL). Since 2016, she has focused on teaching adults in non-profit and higher education settings, including accessibility-driven programs for individuals with visual impairments, as well as on the autism spectrum. Schalk also holds a BFA in Studio Art from the University of Oklahoma, a BA in East Asian Studies from the University of Maryland Asia, and a MA in Art from the University of Dallas.
Chris O'Mahony is an artist based in Los Angeles, CA. His work investigates the relationship of current events with a deeply rooted past. His upbringing in an immigrant household lends to his practice and creative process. O'Mahony's work has been included in exhibitions at MOAH (Museum of Art & History Lancaster), Gallery 825/LAAA, Art Share L.A., stARTup L.A. representing Los Angeles Art Association, Orange County Center For Contemporary Art, Loft at Liz's, Space Gallery and SCA Project Gallery. Temporary Public Art Installations at Space Gallery in the Pomona Arts Colony and for the city of Atascadero's Art & Wine Tour of San Luis Obisbo County/Central Coast region. Chris O'Mahony's metal sculptures are also included in private historic mid-century homes of Palm Desert and Los Angeles. Chris O'Mahony is a member of the Los Angeles Art Association and Fellow at Kipaipai. O'Mahony is grateful to have had his work exhibited under the professional eyes of curators such as Andi Campognone, Robert Benitez, Shana Nys Dambrot, Cheyanne Sauter, Paige Wery, Xrstine Franco and Erns Valdez. Chris O'Mahony currently lives in Glendora, California with private work studios in San Clemente, CA. & Portland, OR.
Review of CIACLA's Artist Spotlight - The work of Erin Schalk & Chris O'Mahony
by
Terence Erraught
  | May 2021
When first sitting and considering these works (of two different artists), I was struck by the reality of our current situation. Here I am, in front of my computer, connected to the internet. A virtual space, a virtual reality. For this Artist Spotlight series, it has kicked off with two artists encompassing video, sculpture, painting, mixed media works and digital photography. 
A defining experience with any kind of art is just that. A moment in the presence of the art. In an unusual era of NFT's and zoom meetings, as a person, a human, one of our most primeval relationships to sculpture is exactly that: our physical relation to it. In the case of sculpture it's how as humans, we literally measure up to it. Any virtual exhibition space that I have experienced thus far has only allowed at best a very isolated interaction with an individual work, like wearing binoculars in a gallery. With that in mind, I hope you will engage with these works in a manner that is fitting to the current climate. Perhaps we can look at this period in time as a moment of reflection of how we engage with exhibitions, both in the flesh and online, and how these experiences are shaping our perception of such works.
As a body of work, the selected works of Erin Schalk brings to mind the idea of perspective. The development of the camera altered how we see and interpret visual works or for that matter everything, but also how it places the viewer at the centre of the universe. Schalk is creating a link between herself and the audience, literally in many instances, such as when we enter her body and contemplate "our" feet as they splash in the water of an enamel bathtub (When I Dreamed of the Accident - available to view here). 
Looking at Schalk's paintings before reading any titles evokes a sense of fragmentation and isolation. They appear as sections of a bigger whole, an edited memory that has been explored through a process of creating textured surfaces. They appear cropped, with many layers, hiding a story, a concept or more probable, a memory in the artist's mind. Having watched the videos first, as a viewer, I was drawn to the order of sequences that were put together, and maybe the paintings can also be seen as an extension of this, or visa versa. Titles and materials are indicative of a lot here. Many of the mixed media works tell a story of how they are rooted in a very specific place (Wetland, Crest, Outcrop, Range) which all indicate a part of a landscape, field, mountain or wave. Others of a very specific time or moment when something happened - an action took place- when a decision was made perhaps (Light Enters, Without a Trace, Going Forward).
Looking at Christopher O'Mahony's works, it is evident that structure plays a very large part in this artists' mindset. Codes and systems. Again, ignoring the titles to start, it appears that a clear similarity runs through the work. Of course, they are fabricated by the one man, and he has created a system of physical construction, a process binding and meshing the materials together to form a strong and reliable, bold mesh, or underlying structure/foundation. There is also a lot of visible evidence of cultural influences, from the use of modernist (minimalist) metals, to the interwoven "to hand" materials that appear more playful and human, contradictory to the modernist machine metals. Then there are other works, which are merging the two, to create a very unfriendly, barbed emotional response. Here the structure has been applied, the metal material has been used, but in a more "human", sporadic fashion, that tells a story, but it is vicious, sharp, and can both keep you out, or imprisoned inside. These have a human heart but a machine ethic (Bald Eagle Trap). 
Two of the images provided include a viewer, bringing us back to engaging in terms of an online experience. This instantly alters the interpretation, and brings it back to the relationship between the "person", the work and the space.
About CIACLA:
CIACLA is a non profit 501(c)(3) arts organisation that promotes Contemporary Irish Culture and supports local diverse communities in Los Angeles through a multidisciplinary programme in collaboration with local and international cultural partnerships. CIACLA is focused on developing a creative platform to support and challenge artists as a means of promoting creative innovation and collaborative initiatives in Los Angeles and across the USA. www.ciacla.com 
This activity is running as part of CIACLA's 'Between You and Me' 2020/2021 Program, which has been kindly supported by Culture Ireland, Government of Ireland Emigrant Support Programme and MART Gallery & Studios.