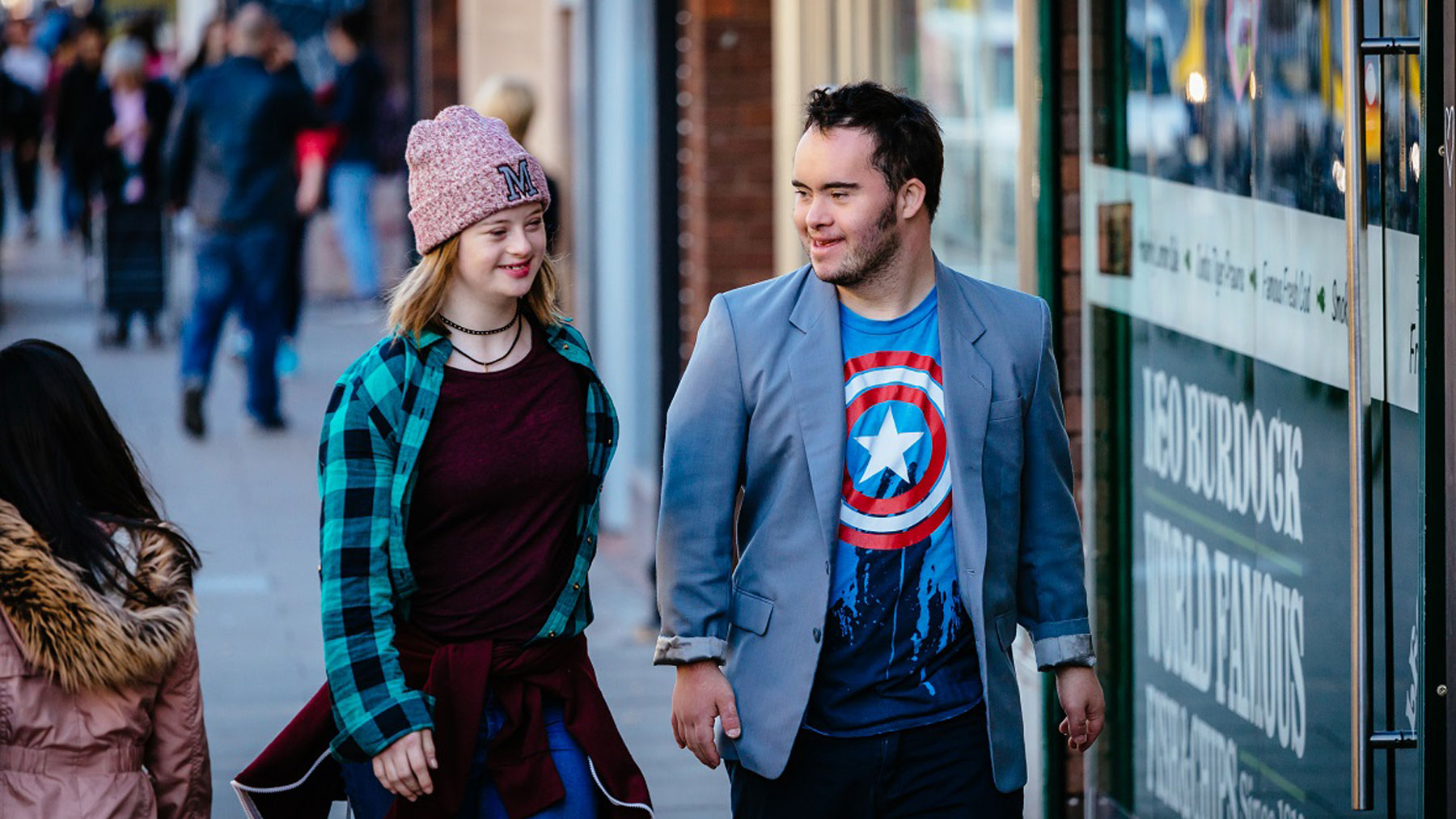 Summary:
This tender and comedic 5 minute short film, addresses the idea of perception and ability, and does so with humour and grace. 2 young adults who have Down Syndrome have an unsettling interaction with a group of youths as they go about their Saturday. The consequences change the day for everyone......
Runtime: 6 minutes
Directed by: Maria Doyle Kennedy - Follow on Instagram
Cast:
Oisín - Daniel Kennedy | Amy - Orla Casey | Tony Doyle, Ali Hardiman, Ericka Roe, Doru Dragos Micu, Conor O'Dwyer, Eleanor O'Brien, Aaron Katambay |  Lady On The Bridge - Derbhle Crotty
About the filmmaker:
Produced by The Irish Film Board / Mermaid productions Mermaid Productions was established in 2007, their collaborations include soundtrack composition, documentary, and most recently the short film Colour Code.
Crew:
Writer/Director: Maria Doyle Kennedy

Producer/Music Composer: Kieran Kennedy

Production Assistant: Lewis Doyle

Production Runner: Rory Sweeney

Stunt Coordinator: Joe Condren

Stills Photographer: Szymon Lazewski

3rd Assistant Director: Nicola Jackson

Trainee Assistant Directors: Aisling O'Farrell, Rob Myler

Gaffer: James Mcguire

Script Supervisor: Dave Moran

Makeup Designer: Leonard Daly

Sound Mixer: Hugh Fox

Boom Operator: Louis Trussell

1st Assistant Director: Sophie Higel

Director Of Photography: James Mather

Focus Puller: Greg Mcguinness

Movi Cam Technician: Dave King

Dit Loader: Niall O'connor

Clapper Loader/2nd Ad: Dan Barnwell

Editor: Weronika Kaminska

Post Production Facilities: Egg, Dublin

Grade: Nik Panteris

Dubbing Mixer: Aza Hand

Online Editor: Alan Sullivan

Assistant Editor: Conor Spelman

Graphics: Noely Ryan

Post Production CoordinatorL Maud Ribbens

For The Irish Film Board: Executive Producer: Emma Scott

Shorts Coordinator: Jill Mcgregor

Line Producer: Vanessa Gildea
---
Screenings, Nominations & Awards:
TONNIENS FILM FESTIVAL WINNER 2018 , 12 MONTHS FILM FESTIVAL 2018 , BELGUIM FILM FESTIVAL 2018 , BROAD HUMOUR FILM FESTIVAL 2018, CLARE FILM FESTIVAL 2018, DINGLE FILM FESTIVAL 2018 , FASTNET FILM FESTIVAL 2018 , GALWAY FILM FESTIVAL 2017, LONDON FILM FESTIVAL 2018, OVER THE RHINE FILM FESTIVAL 2018, SHORT STORY FILM FESTIVAL 2018, TORONTO FILM FESTIVAL 2018
Support Us
CIACLA is a registered 501(c)(3) non-profit arts organisation in California, that promotes Contemporary Irish Culture and supports local diverse communities. Please consider making a tax deductible donation to support our artists and program.