Irish Comedy Night – Irelandweek – Standup – Lords of Strut!
July 12, 2019 @ 6:00 pm

-

10:00 pm

Free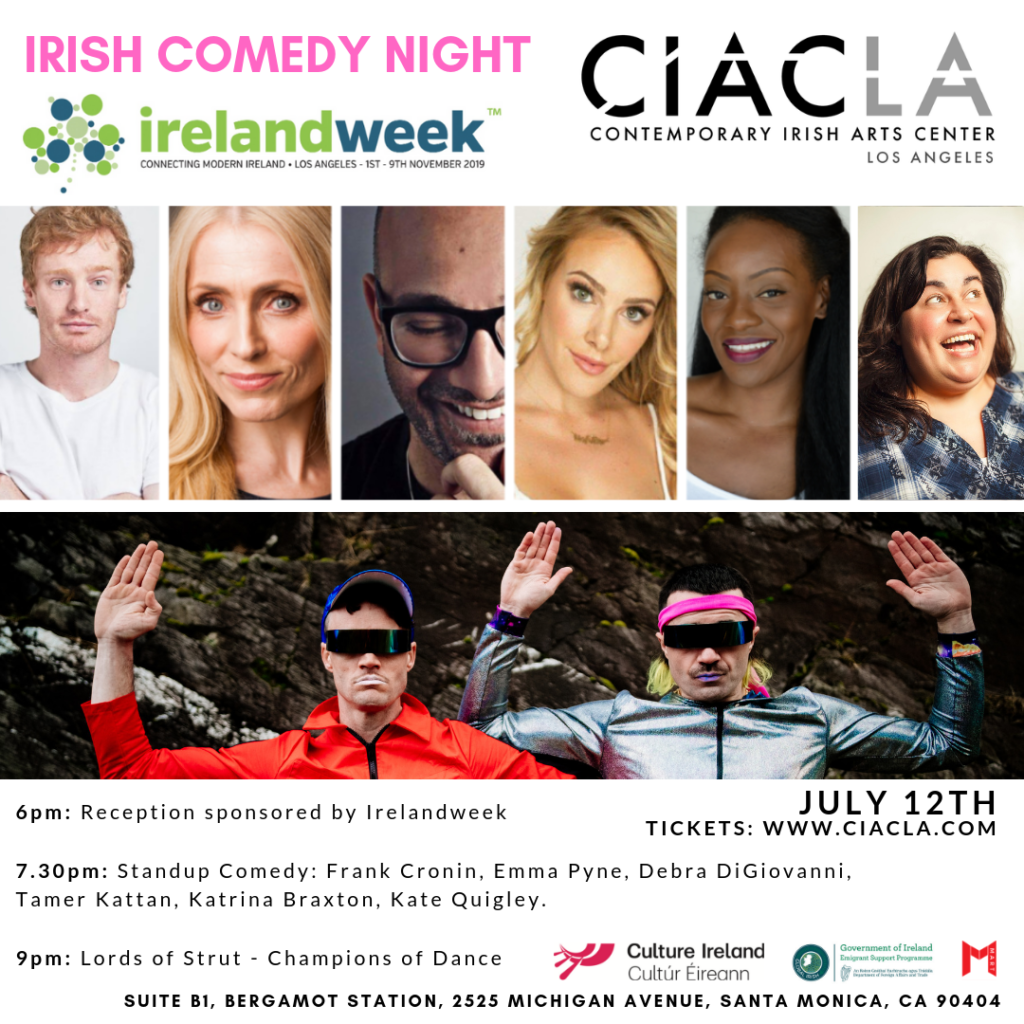 CIACLA invites you to a night of comedy and celebration of the pre launch of IRELANDWEEK 2019 !
Featuring the very best in Irish and American standup and theatrical comedy. Join us with a host of special guests for a night of guaranteed craic and belly laughs straight outta Ireland.
July 12th – CIACLA at Bergamot Station! CIACLA, Suite B1, Bergamot Station, 2525 Michigan Avenue Santa Monica, CA 90404.
6pm : Reception sponsored by Irelandweek – www.irelandweek.com
7.30pm: Standup Comedy! Featuring Frank Cronin, Emma Pyne, Tamer Kattan, Kate Quigley, Katrina Braxton, Debra DiGiovanni.
9pm: Lords of Strut
---


About Irelandweek:
IrelandWeek returns November 1st to 9th 2019 in Los Angeles with an ever expanding program of events connecting modern Ireland. The week starts with the IrelandCon conference on November 1st followed by a series of cultural, sporting, music, theatre, comedy, film, literature, art and entertainment focused events. Join us for a pre launch reception to see what's in store for this year. www.irelandweek.com @irelandweek
---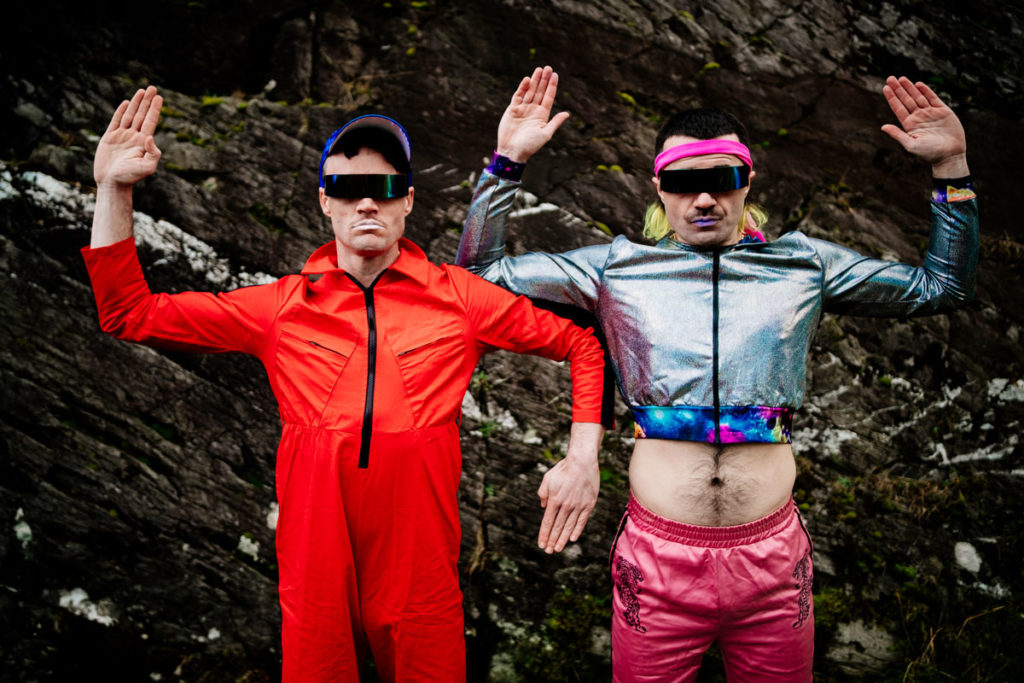 About LORDS OF STRUT
An epic saga of two brothers and their destiny to Dance! Ireland's favorite spandex wearing brothers and comic dancing divas have one mission… "To Change The World with DANCE!"……. from these self described "Absolute Legends" comes a mythical memoir of how they came to be, A PopOpera of daring, disappointments and delusions… a family feud finds the brothers in a secretive yet epic battle for the soul of the world!
The clothes are too tight, the dreams are too big and there might not be enough room in this double act for the two of them! Yes there will be dance – Yes there will be drama – Yes there will be keytar!
"TRULY SUBVERSIVE" – New York Times
"OFFENSIVE, FANTASTIC, AND ABSURDLY BRILLIANT" – Broadway Baby
"I THINK I GET IT NOW… STUPIDLY FUNNY" – Simon Cowell
Lords of Strut have been ripping it up across the Irish and international festival scene since they first squeezed themselves into spandex. Their unique brand of comedy acrobatics and what the hell are they doing has been delighting and confusing audiences in more than 25 countries for 10 years! Cian Kinsella and Cormac Mohally perform and created the legend that is… LORDS OF STRUT
---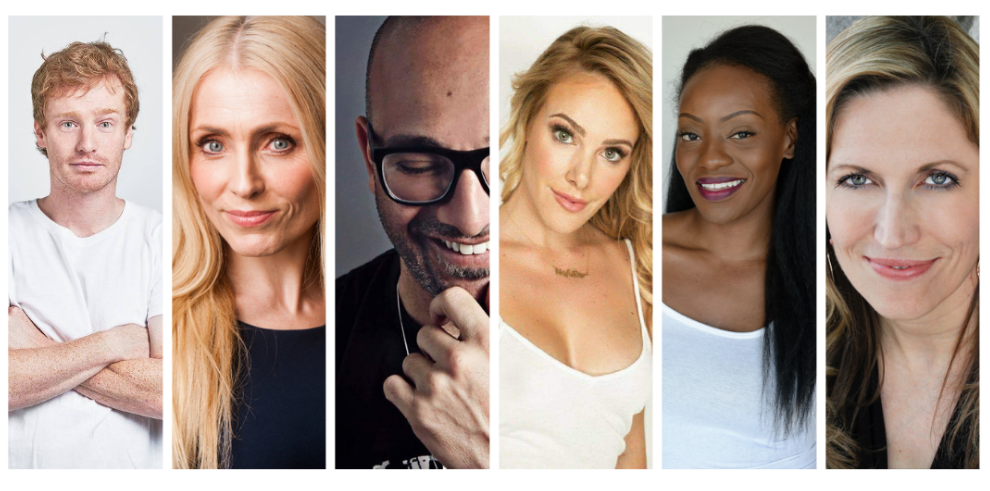 About the Comedians:
Emma Pyne hails from County Clare. She began writing comedy in 2006 and performed with a sketch group at the Edinburgh Fringe Festival in 2007 and 2008. She is an award-winning actor, trained at The Lee Strasberg Institute, and recently starred in the film Angels On Tap, with Ed Asner, Jamie Farr and Marion Ross. She has performed standup in New York, London, Edinburgh, San Francisco, Arizona, and in LA at The Comedy Store, The Hollywood Improv and Flappers. She hosts two monthly comedy shows in LA, one called Throwing Punches and another called Laughing Cat.
Francis Cronin is an Irish born and raised comedian, actor, writer, producer and ex-Irish army officer. In 2012 Frank won the 'People's Choice Award' at the WAFF Awards and was nominated for an 'Outsider – Person of the Year Award' in 2013 for his comedic documentary series about living in a tent for his entire final year of university. He has performed in front of crowds from 50-5000. He wrote the hit Irish comedy series 'The Boys' and wrote and starred in BlackPills's 'SuperHigh.' Francis has made numerous TV appearances in Ireland and America and you can catch him on Fox's LaughsTV. Francis is currently working with SNL alumni on beyondthecomics.com and starring weekly in Equal's Three viral sketches which garner over 50 million views a month globally.
Tamer Kattan is a bi-coastal comedian and host who began his career in Los Angeles and New York, but quickly began to tour internationally. His over-seas experiences include tours for the troops in Afghanistan, performing at the American University and the Edinburgh fringe in Scotland, where he received three 4 star reviews from international press. Most recently featured on Seth Rogen's Hilarity for Charity event with Todd Glass and Hannibal Buress, won the 2015 World Series of Comedy, in 2017 won his episode of Comedy Knockout on truTV. In 2019 his podcast "They Tried to Bury Us" was featured in Los Angeles magazine. He has TV & Radio credits on BBC and SkyTV in the UK as well as in the U.S. on Fox, HULU, HGTV & truTV.
Katrina Braxton: One day Katrina's father triple-dared her to try stand up. So, September 2009, she did her first comedy set at the Laughing Skull Club in Atlanta GA. Before she knew it she was opening for comics like Margaret Cho and Jamie Kennedy. Since then she has been performing in rooms all over like Comedy Cellar, Gotham Comedy Club, and the Hollywood Improv. In 2014 Katrina was named a top 10 finalist in NBC Stand Up for Diversity national contest. In 2016 Katrina starred in feature film, How to Be Single, playing opposite to Leslie Mann. Currently, Katrina resides in Los Angeles where she was featured in the 2016 Burbank Comedy Festival. Also seen on TruTV, Katrina travels everywhere there is a comedy show. You can catch her hosting every week at Flappers Comedy Club in Burbank.
Kate Quigley is a standup comedian & actress. She hosted the 2016 AVN Awards (airing on Showtime,) and can currently be seen on MTV2's ADD TV. Widely known as the "up for anything" star of UNDERCOVER on Playboy TV, Kate's other TV credits include THE OFFICE (NBC), THE JOSH WOLF SHOW (CMT), THE DANNY COMDEN PROJECT (Pilot for Warner Bros), THE MEGAN MULLALLY SHOW (NBC), and TALKSHOW WITH SPIKE FERESTEN (FOX). She also hosts a podcast, #DateFails (which receives over 30,000 downloads per week) on Bill Burr & Al Madrigal's network, All Things Comedy. Kate tours as a headlining comedian and is a paid regular at the Improv, Laugh Factory, Icehouse, and Haha Comedy Club in Hollywood. She recently returned from an Armed Forces Tour, performing for troops in Japan, Singapore, Guam, and Diego Garcia.
Debra DiGiovanni is a three-time winner of the Canadian Comedy Award for Best Female Comic. She has appeared in two Comedy Now! stand up specials on The Comedy Network; appeared at seven Just For Laughs Comedy Festivals in Montreal; is frequently on CBC Radio's The Debaters; and is a favourite on Much Music's Video On Trial. She's also appeared on the most recent two seasons of Match Game. Debra can also be seen in the film Unlucky, and found on Netflix with her new Showtime Comedy special, Single Awkward Female. She is the winner of a Gemini Award for Best-Televised Individual Comedy Performance and also received a Canadian Comedy Award nomination in the Comedy Writing category for The Debaters.
About CIACLA: www.ciacla.com/program and www.ciacla.com/events for a full list of what's on this summer!
CIACLA is a new Contemporary Irish Arts Center which will promote Contemporary Irish Culture and local diverse communities through a multidisciplinary program, in collaboration with local and international cultural partnerships in Bergamot Station, Santa Monica – Los Angeles. The program will feature some of the most exciting talent from Ireland, with a multidisciplinary program of visual arts, theatre, performance, dance, music, literature, design and film. The people behind CIACLA are Matthew Nevin and Ciara Scanlan – co-directors of MART Gallery in Dublin who also have a long history of curating Irish art exhibitions in Los Angeles. After nearly a decade of partnering with venues to promote Irish Artists in Los Angeles, MART is taking the logical next step by opening CIACLA – a dedicated space to showcasing Irish Arts & Culture in Los Angeles.
Website: www.ciacla.com
Program: www.ciacla.com/program
Tickets: www.ciacla.com/events
Social Media: Facebook | Instagram | Twitter | LinkedIn
Promo Materials: Google Drive Link
Supported by: Culture Ireland, Government of Ireland: Emigrant Support Programme
CIACLA Location: Suite B1, Bergamot Station, 2525 Michigan Avenue Santa Monica, CA 90404.
---
Kindly Supported by Culture Ireland and the Government of Ireland: Emigrant Support Programme.