Eimear Noone – a Celebration of Ireland's Electronic Artists and Video Game industry
August 17, 2019 @ 7:30 pm

-

9:00 pm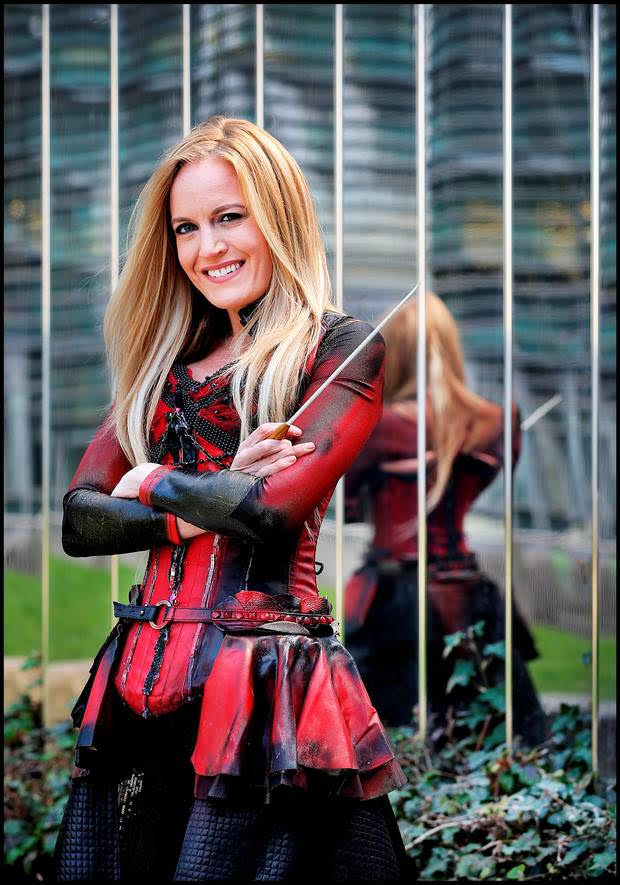 Image by Stephen Humphreys
You are cordially invited to join us at the Contemporary Irish Arts Center Los Angeles – at Bergamot Station, Santa Monica on August 17th at 7.30pm to join Eimear Noone as she presents a Celebration of Ireland's Electronic Artists and Video Game industry.
RSVP – Tickets Below
Join us for an intimate evening of music and lively discussion focussed on Ireland's evolving Video Game Industry, live music from a string quartet and a video presentation of examples of Ireland's current and future games!
Media composer and conductor, Eímear Noone will take us through what's new and upcoming in the Irish Video Game industry, whilst sharing her own experience in the global world of video games and interactive art.
Ireland, has produced more than its fair share of fine storytellers, poets, playwrights and musicians. The birthplace of James Joyce, Oscar Wilde and Bernard Shaw, to name just a few, the island is legend for producing raconteurs. And what are video games if not stories, told in three dimensions? It's only natural that Ireland's creative artists, including Eimear, would be attracted to this new method for telling stories.
Named "The Irish Queen of Games Music" by The Irish Independent, Eímear Noone is arguably the world's premier conductor of video game scores both in the studio and in the concert hall. On August 17th, 2019, come join Eimear as she hosts an evening of video game music and lively discussion of both her own video game music career as well as the current state of the Irish video game industry.
Immediately following her discussion, these game scores will be performed in string quartet:
Baba Yetu – from Civilization IV, by Christopher Tin

Malach, Angel Messenger – from World of WarCraft, Warlords of Draenor, by Eimear Noone

The Legend of Zelda Medley – from the Zelda Franchise, by Koji Kondo

AC/DC's Back in Black (Eimear's personal theme song) which also appeared in Call of Duty Black Ops II, by Angus and Malcolm Young and Brian Johnson, as imagined by Craig Stuart Garfinkle.
Ireland is an artistic and technological biosphere that is uniquely suited to this limitless engine for creativity. From creative programmers to animators to writers, composers and actors, multi-media cross disciplinary collaboration means that each individual practitioner has to look beyond the traditional confines of their own art to make a meaningful contribution to the whole. Join us in Gallery 2 for a video presentation of what's happening in the exciting Irish Video Game Industry.
About Eímear Noone
Eímear Noone is a California based award-winning Irish composer and conductor. She has composed extensively for film and videogame. She is responsible for some of the most enduring soundscapes on World of Warcraft and other best-selling videogames. She has conducted orchestras such as the Royal Philharmonic, Pittsburg Symphony and The Philadelphia orchestras and has worked on scores for directors such as Gus Van Sant and Joe Dante, orchestrating for Oscar nominee Javier Navarrette (composer of Pan's Labyrinth) creating haunting music for thrillers Mirrors and The Hole. Eímear founded a major European game music festival in Ireland and is an advocate for and mentor to creative women in tech and music. Eímear also consults on Amazon's Mozart in the Jungle as coach to female lead, Lola Kirke.
---
Kindly Supported by Culture Ireland and the Government of Ireland: Emigrant Support Programme.